The crypto market has not yet been able to find the right footing based on tightened macroeconomic factors and Russia's invasion of Ukraine.
As a result, crowd sentiment toward cryptocurrencies has turned negative. Market insight provider Santiment explained:
"With Bitcoin, Ethereum, and most altcoins ticking down slightly Monday, the crowd's bearish outlook continues to be evident. Green bars indicate more FUD than usual toward an asset, and red bars indicate more FOMO."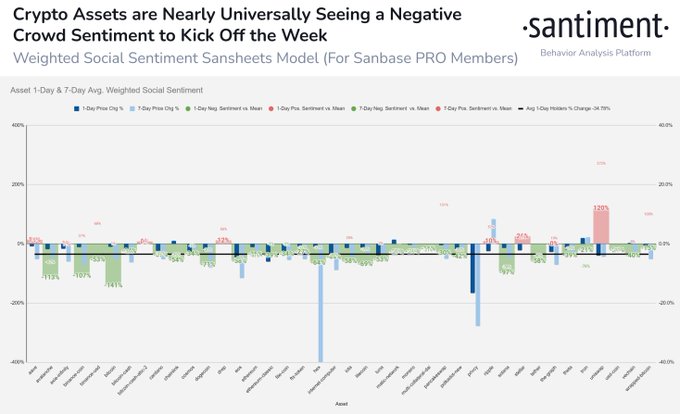 Source: Santiment
Based on Santiment's data, fear, uncertainty & doubt (FUD) continue to rock the crypto market, prompting a bearish outlook. Bitcoin (BTC) and Ethereum were down by 1.89% and 2.95% to hit $19,067 and $1,278, respectively, during intraday trading, according to CoinMarketCap. 
This trend is being witnessed ahead of the release of the U.S. inflation data scheduled for October 13. 
Riyad Carey, a research analyst at Kaiko, pointed out:
"There seems to be some jitters and derisking across all markets as we approach Thursday's CPI release." 
Carey added:
"Bitcoin is moving closely with equities and I'd expect that to continue as there haven't been many crypto-specific catalysts in recent weeks. I also expect significant volatility on Thursday, with a move up or down depending on the inflation figure."
The Bureau of Labor Statistics is set to unveil the consumer price index (CPI) for September, with some economists expecting a 0.3% monthly increase and the annual gain to jump to 8.1%.
The federal reserve (Fed) has been on a roller coaster ride of increasing interest rates to tame runaway inflation, but this has been detrimental to the crypto market.
This trend has prompted concern from various players. For instance, James Butterfill, the head of research at CoinShares, stated:
"We believe there is a building narrative that central banks are beginning to make policy errors. Several of our clients have made the point that they don't want to buy Bitcoin right now, but as soon as the Fed pivots, they will add to positions."
The UNCTAD recently pointed out that the Fed should ease interest rate hikes because this could trigger a global recession, Blockchain.News reported. 
Image source: Shutterstock